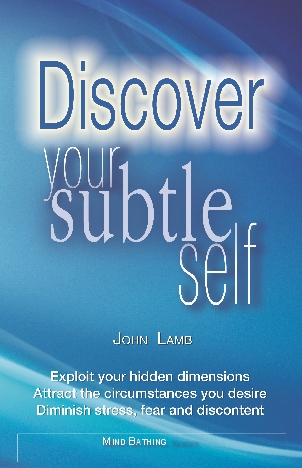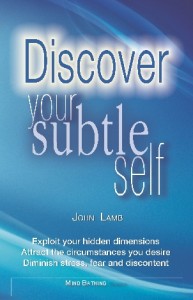 Back Cover – "Discover Your Subtle Self pinpoints the fact that contemporary scientific and ancient mystical explanations about our existence are one and the same thing. Quantum physics has recently provided us with evidence of a likely 11 dimensions in our makeup, and in all matter surrounding us. That's 8 extra dimensions to add to the 3 we generally perceive and use! Are they of any use to us and, if so, how do we access them? Most of us fail, unnecessarily, to achieve the permanent happiness and fulfilment we seek. But the invisible extra dimensions are subtle, incredibly powerful energies – and they hold the key to overcoming the shortfall in our aspirations and our goal of perfect contentment. The subtle energies simply have to be identified and then utilised. The author was a friend, aide and student of Guruaj Ananda Yogi (1932-1988). He was intrigued by the fact that stilling the mind allowed the experience of the invisible dimensions that leading physicists had discovered. He was chairman of the British Meditation Society for 25 years, a voluntary charitable organization teaching thousands of people who can attest to the validity of Gururaj's stilling techniques and practical teachings being a direct route to unfolding our dormant, inherent self-power."
Readers unsolicited comments: (I never solicit testimonials but |I love receiving them):
"This book contains excellent useful explanations of concepts such as our personal limitations of the mind and how the mind really works." JJP Somerset, UK
"I'm impressed with your prose and clarity of expression .. has kick started me into meditating again, which I am finding VERY rewarding." PB, Lytham, UK
"I could never understand the other dimensions which exist and this book has provided me with some worthwhile explanations. I was very interested in how one can help oneself to a more peaceful and enjoyable life via Unconditioning; `Taking Control', `Acceptance', `Attachment', `Balance', `Self Love', and 'Prosperity Consciousness'. They are worth incorporating into daily life. In all a very enjoyable and really beneficial read."
J Brennan, Dublin
"Awesome .. I love this book! It is worth its weight in gold due to how it could transform your life for greater happiness and fulfillment." PhilB – Published on Amazon.com
"This book is like a box of my favourite chocolates – I just couldn't put it down." Britte, Brussels
"I thought your book was fantastic. I couldn't put it down. I loved the precise detail in which you describe our minds and their connection to the Source. I am writing a book for young female adults in which I aim to help them understand / cope/ create their lives. I would love so much that my readers feel as clear and motivated after reading my words as I did after reading yours." Louise, Canada
"The book explains heavyweight metaphysical concepts, that have taxed theologians for centuries, in easily understood layman's terms – it lifts the veil of mystery surrounding the fundamental concepts of our relationship and dialogue with our creator: a 'must have' for any seeker of truths." Peter, Lancncashire, U.K.
"A clear and informative explanation of what we all need to know in our practical everyday lives and our spiritual well-being." Benita – Amazon Verified Purchase reviewer.
"Very enjoyable indeed … Read it slowly …. immediately ordered a copy for my sister." BB, Falmouth UK