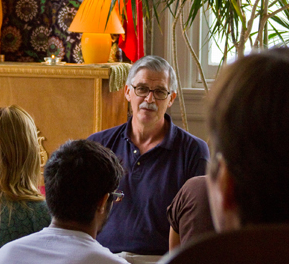 Jeffrey Carr is the Dean of the School of Fine Arts at the Pennsylvania Academy of the Fine Arts. He has held that position since 2003, and was previously a full professor of art at St. Mary's College of Maryland, where he was chair of the Department of Art and Art History.
Born in Arlington, VA in 1952 he started to study under Gururaj in 1979 and continued studying with him until he passed away in 1988. A curious and investigative nature lead him to become a senior student of several Budhist traditions, particularly the Chenrezig Sunday school of Philadelphia in which he teaches and leads the sunday gathering whenever the resident lama is not available.
Dean Carr has also held academic appointments at the Hope School of Fine Arts at Indiana University and the Herron School of Art in Indianapolis, and has taught at numerous other schools of art including the International School of Art in Montecastello, Italy. He has been a visiting artist or speaker at over a dozen art schools and art departments. His figurative drawings and paintings have been the subject of numerous solo and group exhibitions.
He holds an MFA from the Yale School of Art, attended the New York Studio School of Drawing, Painting and Sculpture and has his BA from the University of California at Santa Cruz. As Dean, he oversees the faculty and curriculum of the School of Fine Arts, and with the staff of the School and Admissions, works to promote the mission and goals of the Academy and its programs.
He has pemanente collections of his works in:
Southern New England Telephone ARA Corporation, Philadelphia, PA Evansville Museum of Art, IN Seven-Up Corporation, St. Louis, MO University of California, Santa Cruz