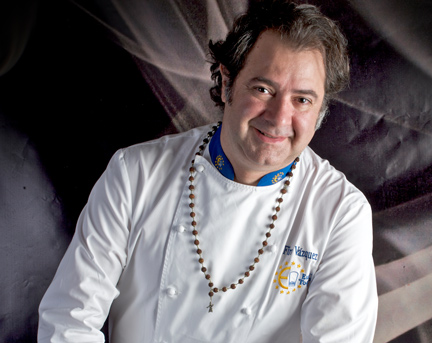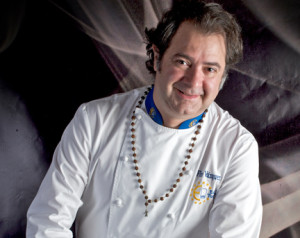 Firo Vazquez started to meditate when he was a young student in College at the Medical School of Madrid University. Gururaj gave him the spiritual name Firo (fearless).
Today, Firo is one of the best-known names in the culinary world in the Autonomous Community of Murcia. His restaurant, El Olivar de Moratalla, is a necessary port of call for travelers in this part of south-east Spain who are looking for traditional food with modern touches.
Born in Béjar (Salamanca, Castile-León) in 1959, Vázquez pays tribute in his menus to the Castilian-Leonese dishes he learnt from his mother and aunts, as well as to the Murcian recipes that he has devoted so many hours of study and research to. Firo Vázquez is a staunch supporter of extra virgin olive oil made from the Cuquillo variety, a native of Moratalla and genetically related to the Lechín variety from Granada or Jaén, both of which are close to this Murcian town.
This support goes to the extent of producing his own olive oil, through his company Aceites de Moratalla S.L. Moreover, he is a member of the Official Olive Oil Tasting Panel for the Region of Murcia and chairs the Association of Friends of Virgin Olive Oil. Clearly, this product is an essential element in this chef's culinary vision.
At his restaurant you will not only have a great dinner, you will  also benefit with the Shakti that Firo creates around him. A must visit if you are in Spain.